Unconventional, fun controls
In Hoplegs you control a block with 4 legs to move around the level. Each button on your controller (or an assigned key on your keyboard) controls one of the 4 legs. Challenging - and fun!
Customizable character & legs
Change the look of your Hoppy to suit your mood! Change colors, facial expressions and, of course, your legs. You can choose out of 20 legs - and more coming soon!
30+ Challenging levels upon release
Hoplegs ships with 30+ levels on release. With its built-in level editor and challenging gameplay we aim to create a community of level creators and players who will bring this game to a whole new level!
Level Editor with Steam Workshop
Create, design and build your own custom Hoplegs levels and share them with the community. Challenge your friends (or your favorite streamer) to play your level and become the #1 most-played Hoplegs level creator of all time!
A sweet single player story in a medieval world

Build and share custom levels with the Hoplegs Level Editor

Compete against other players in the Leaderboard

Controller, Keyboard and Dance Mat support. Yes, for real

A wonderful soundtrack by Nathan Ross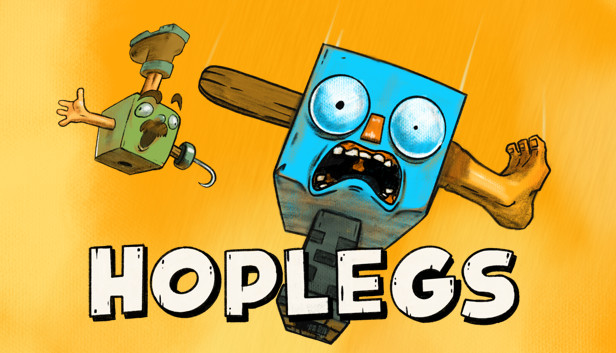 Hoplegs is a different kind of platformer about a moving box and four legs with unconventional controls. Each of the four buttons on your gamepad (or assigned keys on your keyboard) where you usually jump, interact, crouch and change weapons are now your different legs. Master this unique way of controlling your character to navigate through a large variation of levels created by the developer and the community!